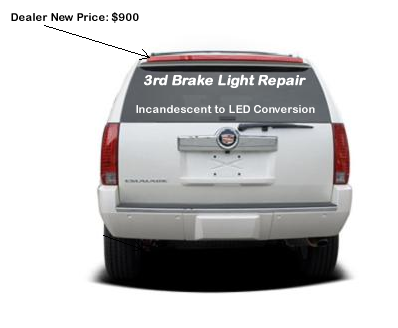 These taillights all suffer from the same problem, dead lighting and condensation damage. With our repair service the taillight will be retrofit to an LED bulb system from the problematic neon bulb. These parts will not fail like the OEM factory parts and are waterproof. In some cases taillights with severe rust due to water damage may not be repairable.
Remanufactured: A properly rebuilt automotive part. The item has been completely disassembled, cleaned, and examined for wear and breakage. Worn out, missing or non-functioning components have been replaced with new or rebuilt components. It is the functional equivalent of a new part and is virtually indistinguishable from a new part.
IMPORTANT: Our service is for repair of your current failed lighting system. Ship your defective taillight to Safety Check Speedometer Service (see below) after repair of the part, we will ship it back to you in perfect working condition. Broken lenses can also be repaired for an extra fee, disclosure required prior to shipment of failed lighting system.
2003-2006 CADILLAC ESCALADES
2001-2007 CADILLAC STS